Need A Septic Repair? Call Us Now – We Can Help!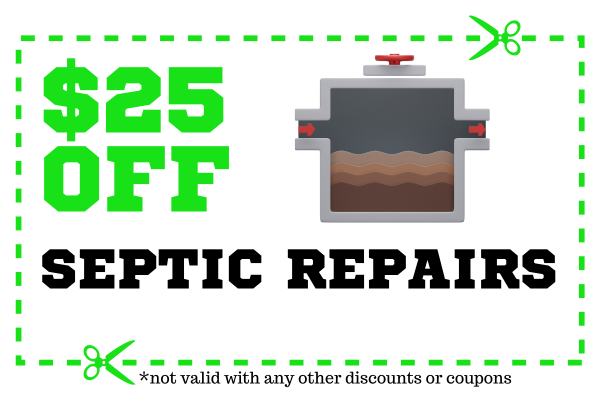 Great3.8★★★★☆ Based on 77 reviews from review us onCarey ★★★★★ Aptly named, Best Septic was the best! I wasn't sure what was wrong with my system. They came out, cleaned things up (after serious digging), and explained the situation. The follow up work was quick and thorough and timely. I can't say enough about the professionalism - from the front desk and scheduling to the guy digging and dumping my waste - and the team who returned to help me troubleshoot. I had the BEST service from Best and absolutely recommend them and will be using them again. Thank you Best Septic!Rob Walker ★★★★★ Best Septic did a fantastic job of bailing me out when my septic alarm went off. It was 4th of July weekend and they still got here ASAP. Their technician, David was extremely professional and helpful. Turns out the issue I thought I had (and had authorized doing) was not the problem. David fixed it quickly and ended up saving me a lot of money that I didn't need to spend. We will use Best Septic every time from here on out.James Conachen ★★★★★ We have Best septic pump our tank so we could replace our Orangeburg drains. They arrived on time and were very fair with the pumping fee. Very happy!Andrea Hargis ★★★★★ Had them come out in a new d-box and entire drain field. I can't emphasize strongly enough how professional and friendly everyone was, so easy to work with from the ladies on the phone, the owner who came to do the bid, and the guys who did the work. Getting a bid was fast and easy, the Permit took longer than expected, but everyone at best septic communicated with us during the wait, and as soon as we had that the work got done. 100% recommend, and I'll come to them again if we need any septic work.
From Diagnosis to Repair: How Our Septic Experts Get Your System Back on Track
Having a septic system can be a blessing and from time to time, it can be a pain! On one hand, it's a great way to avoid the city sewer system, but on the other hand, when something goes wrong, it can be difficult to find the right septic repair professionals. Luckily, the Best Septic Tank Pumping company is here to help. Our experienced septic technicians provide diagnostics and repairs to get your septic system back on track quickly. With our years of experience and expertise, you can trust that your system is in good hands.
Diagnostics: Identifying the Problem
When your septic system starts acting up, it's essential to identify the problem accurately. That's where our skilled septic techs come in. Our team at the Best Septic Tank Pumping company has years of experience in diagnosing and troubleshooting septic system issues. We understand that identifying the problem correctly is the first step in getting your system back on track.
The diagnostic process begins with a thorough inspection of your septic system. Our technicians will examine the tank, the drain field, and all the necessary components to assess the overall condition. We'll look for signs of clogs, leaks, or any other issues that may be causing your septic system to malfunction. Through our expertise and attention to detail, we can pinpoint the root cause of the problem efficiently.
One common problem homeowners face is a clogged septic tank. Over time, solid waste and debris can build up in the tank, causing blockages that hinder proper wastewater flow. If left untreated, this can lead to backups, foul odors, and even potential damage to your septic system. Our technicians are trained to identify signs of a clogged septic tank, such as slow drains, gurgling sounds, or sewage backups in your home. By accurately diagnosing this issue, we can recommend the appropriate solution, whether it's a thorough tank pumping or the installation of a new filter.
Another issue that homeowners may encounter is a failing drain field. The drain field is responsible for the final treatment of wastewater before it returns to the soil. If the drain field is malfunctioning, you may notice wet spots, pooling water, or strong odors in your yard. Our septic technicians will assess the condition of your drain field and determine the cause of the problem. Whether it requires repairs, regrading, or even a complete replacement, we have the expertise to restore your drain field's functionality.
At the Best Septic Tank Pumping company, we understand the frustration and inconvenience that a malfunctioning septic system can cause. That's why we prioritize accurate diagnostics to identify the problem swiftly and effectively. By relying on our experienced septic technicians, you can trust that your septic system is in good hands. From clogged tanks to failing drain fields, we have the knowledge and tools to get your septic system back on track.
Septic System Acting Up? Maybe You Need A Repair!
Is your septic system giving you trouble? Don't worry, we've got you covered. At the Best Septic Tank Pumping company, we understand that septic issues can be a major inconvenience and source of stress. That's why we offer top-notch septic system repairs to get your system back on track and restore your peace of mind.
When it comes to septic system repairs, it's essential to address the issue promptly to prevent further damage and potential health hazards. Whether you're experiencing slow drains, backups, foul odors, or any other signs of a malfunctioning septic system, our team of experienced septic technicians is here to help. Upon diagnosing the problem accurately, we will provide you with a detailed explanation of the issue and recommend the appropriate repair solutions. Our goal is to ensure that your septic system is restored to full functionality as quickly as possible. No matter the complexity of your septic system issue, our dedicated team is ready to tackle it head-on. We have the knowledge, skills, and state-of-the-art equipment to provide efficient and effective repairs that will have your septic system functioning optimally in no time.
Don't let a malfunctioning septic system disrupt your daily life. Contact the Best Septic Tank Pumping company today for reliable septic system repairs that will get you back on track and keep your septic system running smoothly.