Need A Commercial Septic System Serviced? We Can Help – Call Now!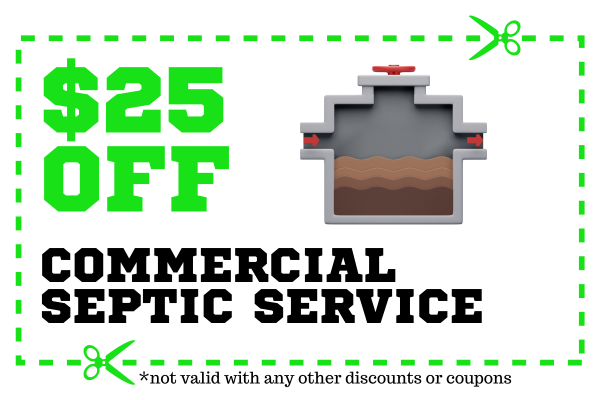 Great
3.8
★
★
★
★
☆
Based on 77 reviews from
review us on
Carey
★★★★★
Aptly named, Best Septic was the best! I wasn't sure what was wrong with my system. They came out, cleaned things up (after serious digging), and explained the situation. The follow up work was quick and thorough and timely. I can't say enough about the professionalism - from the front desk and scheduling to the guy digging and dumping my waste - and the team who returned to help me troubleshoot. I had the BEST service from Best and absolutely recommend them and will be using them again. Thank you Best Septic!
Rob Walker
★★★★★
Best Septic did a fantastic job of bailing me out when my septic alarm went off. It was 4th of July weekend and they still got here ASAP. Their technician, David was extremely professional and helpful. Turns out the issue I thought I had (and had authorized doing) was not the problem. David fixed it quickly and ended up saving me a lot of money that I didn't need to spend. We will use Best Septic every time from here on out.
James Conachen
★★★★★
We have Best septic pump our tank so we could replace our Orangeburg drains. They arrived on time and were very fair with the pumping fee. Very happy!
Andrea Hargis
★★★★★
Had them come out in a new d-box and entire drain field. I can't emphasize strongly enough how professional and friendly everyone was, so easy to work with from the ladies on the phone, the owner who came to do the bid, and the guys who did the work. Getting a bid was fast and easy, the Permit took longer than expected, but everyone at best septic communicated with us during the wait, and as soon as we had that the work got done. 100% recommend, and I'll come to them again if we need any septic work.
From Restaurants to Offices: How Our Commercial Septic Service Can Keep Your Business Running Smoothly
If you own a business and have a commercial septic system, then you know how important it is to have reliable and efficient septic service. At Best Septic Tank Pumping, we are a septic company that specializes in providing top-notch commercial septic services to businesses of all sizes. We understand the importance of having a well-maintained septic system for businesses, especially restaurants and offices.
Best Septic Tank Pumping's Commercial Services
When it comes to commercial septic services, Best Septic Tank Pumping has got you covered. We offer a wide range of services tailored specifically to meet the needs of businesses with septic systems. Whether you own a restaurant, office building, or any other type of business, we have the expertise and experience to ensure that your septic system is functioning at its best.
One of our key commercial services is regular septic tank pumping. This is an essential maintenance task that helps to prevent blockages and backups, ensuring that your business can operate smoothly. Our skilled technicians will visit your property at regular intervals to pump out the accumulated solids from your septic tank, preventing the risk of overflow and costly repairs.
In addition to septic tank pumping, we also offer septic system inspections. This involves a thorough assessment of your entire septic system to identify any potential issues or areas that may require attention. Our inspections are conducted by trained professionals who know exactly what to look for, giving you peace of mind that your septic system is in good hands.
Another important service we provide is septic system repairs. If you notice any signs of trouble such as slow drains, foul odors, or wet spots in your yard, it's important to address the issue promptly. Our team will assess the problem and provide the necessary repairs to ensure that your septic system is back up and running efficiently.
At Best Septic Tank Pumping, we take pride in our ability to deliver high-quality commercial septic services to businesses of all sizes. We understand that a well-maintained septic system is crucial for the smooth operation of your business, and we are committed to providing reliable and efficient service to meet your needs. Don't let septic system issues disrupt your business – trust the experts at Best Septic Tank Pumping to keep your septic system running smoothly.
The Importance of Regular Septic Maintenance for Businesses
Regular septic maintenance is crucial for businesses that rely on a septic system. Ignoring the maintenance needs of your septic system can lead to costly repairs, disruptions in your business operations, and even potential health hazards for your employees and customers.
One of the main reasons why regular septic maintenance is important is to prevent system failures. A poorly maintained septic system can become overwhelmed with waste, leading to blockages and backups. This can result in foul odors, slow drains, and even sewage backups inside your business. Not only is this unsanitary and unpleasant, but it can also lead to significant damage to your property and the need for emergency repairs.
Regular maintenance also helps to extend the lifespan of your septic system. By regularly pumping your septic tank and addressing any repairs or issues promptly, you can prevent excessive strain on your system and prolong its overall lifespan. This can save you money in the long run by avoiding the need for premature system replacement.
Finally, regular septic maintenance can help ensure compliance with local regulations and avoid potential fines or penalties. Local health departments often have regulations in place for businesses with septic systems to protect public health and the environment. By staying on top of regular maintenance, you can ensure that your business meets these requirements and avoids any legal complications.
Overall, regular septic maintenance is essential for businesses with septic systems. It helps prevent system failures, extends the lifespan of your septic system, and ensures compliance with regulations. By partnering with Best Septic Tank Pumping for your commercial septic service needs, you can rest easy knowing that your business is in good hands.
Benefits of Choosing Our Commercial Services for Your Business
When it comes to choosing a commercial septic service for your business, Best Septic Tank Pumping is the clear choice. Our experienced team of technicians is dedicated to providing top-notch service that will keep your business running smoothly.
One of the major benefits of choosing our commercial services is our expertise in the field. We have years of experience working with businesses of all sizes, from restaurants to offices, and we understand the unique needs and challenges that come with maintaining a septic system in a commercial setting. Our skilled technicians know exactly what to look for and how to address any issues that may arise, ensuring that your septic system is functioning at its best.
Another benefit of choosing our commercial services is our commitment to reliability and efficiency. We understand that time is money in the business world, and any disruption to your operations can be costly. That's why we prioritize prompt service and strive to minimize any downtime for your business. Whether you need regular septic tank pumping, inspections, or repairs, you can trust us to get the job done quickly and efficiently.
In addition, our commercial services offer peace of mind. We understand that as a business owner, you have a lot on your plate, and worrying about your septic system shouldn't be one of them. By choosing Best Septic Tank Pumping, you can rest easy knowing that your septic system is in good hands. We take pride in delivering high-quality service and ensuring the long-term health and functionality of your septic system.